Los Angeles doesn't get to play itself very often. The movie capital has stood in for so many other places, from Midwestern anytowns to faraway planets, that it's hard to appreciate even its major landmarks as anything more than generic settings for fictional stories. But the best L.A. filming locations get used and re-used on screen because they're spectacular in their own right.
Here are some of the most recognizable, iconic, and versatile filming locations in Los Angeles county. If you've ever watched a movie, TV show, or car commercial, you've probably seen them before. Trust us: they're worth a second look.
Vintage time capsules
If you saw Once Upon a Time in Hollywood, you may have noticed the attention paid to period-accurate details. The cars, the clothes, and the consumer packaged goods were painstakingly refurbished or re-created to simulate 1969—but the locations were all (or mostly) real, baby.
For a city with a short history, Los Angeles boasts a surprising number of untouched historical locations—as long as you consider the 20th century "historical." Revel in a taste of Old Hollywood by visiting these mid-century modern locations. (Mad Men did: the Manhattan-set show chose to film in L.A. for its selection of genuinely vintage interiors).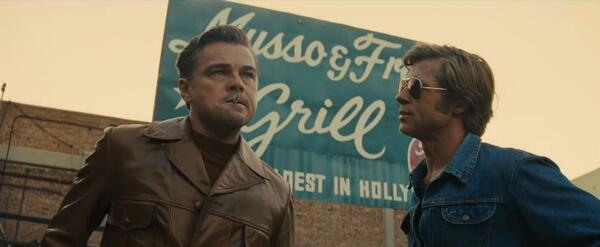 Musso & Frank's Grill
The oldest restaurant in L.A. opened its doors in 1919, an entire hundred years ago (somewhere, the patrons of a 600-year-old Irish bar are laughing). Shake off the grime of Hollywood Boulevard in a cool, dark dining room equipped with deep red booths and crisp white tablecloths. Stay for oysters on authentically dented silver platters and retro heart-stoppers like Lobster Thermidor...plus the timeless appeal of a really good steak. The martini is served with an iced carafe of surplus martini, like Spencer Tracy's idea of a milkshake.
Canter's Deli
Still cavernous, still comforting, still open 24 hours. Canter's hasn't changed much since 1953, when it moved into a former theater on Fairfax (which is why the inside is so big). These days, the line for the Supreme store stretches past its front door, but inside, it could be any year. The adjoining Kibitz Room, a teeny-tiny bar, was once known for drop-ins from the likes of Guns n' Roses and Frank Zappa.
Pann's restaurant
Depending on where you live, this restaurant and coffee shop is either a neighborhood institution or an unmissable stop on the way to LAX. Either way, its light-filled, angular, richly-textured interior is the best possible argument for 1950s architecture and interior design. Sleek and comfortable, homey and bright, with a storied history and a hefty menu of American diner classics, Pann's is the time machine you can enjoy without resorting to quantum calculations. And it recently hosted Cardi B in a Super Bowl ad that made Pepsi look much better than "OK."
El Coyote
Sharon Tate ate her last meal at this Beverly Boulevard institution, a sprawling and comfortable Mexican restaurant bedecked with rainbow twinkle lights and papier-mâché parrots. Since 1931, its almost-authentic Mex-American food has been about as good as it can be, with pillowy flour tortillas on oven-warmed ceramic dinnerware ("hot plate," warns your server, before setting down a lava lake of refried beans and rice). Afterward, you can walk to the also-vintage New Beverly theater for a 35mm print of a movie from Quentin Tarantino's personal collection.
The Frolic Room
Speaking of doomed starlets, Elizabeth Short was last seen at this bar, a neon-fronted dive adjoining the Pantages theater. See a touring production of a Broadway show, drink like the Black Dahlia.
The Smokehouse
For decades, the smoky Smokehouse was the place deals got done—it's just across the street from Warner Bros. studios. Today, the crowd includes at least as many retired film executives as current movers and shakers. It's still a great place to party and play pretend over baskets of legendary garlic bread.
Timeless landmarks
There are a few L.A. sites that have remained iconic, relevant filming locations for decades, aging gracefully along with the city.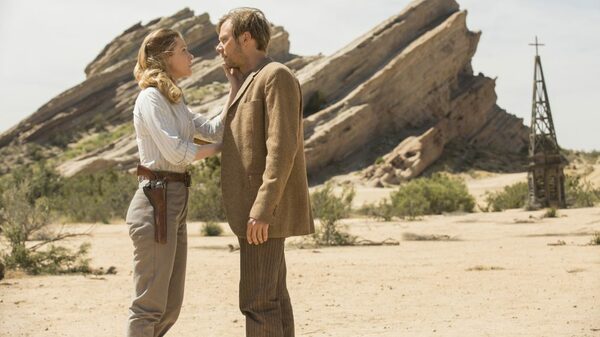 Vasquez Rocks
A few miles north of the city, Vasquez Rocks looms like a petrified tidal wave. Angular, dramatic, otherworldly—it's the perfect backdrop for Westworld, both the 1973 film and the 2016 HBO show. Look for it in sci-fi and Westerns (and sci-fi Westerns).
Griffith Observatory
Angle your telescope up or down: this planetarium and observatory commands an equally magical view of night skies and city lights. La La Land's memorable Observatory sequence was preceded by Rebel Without a Cause, which set a teen drag race at the facility. Both films portray Griffith Observatory as curiously, miraculously devoid of crowds. Reach for the stars!
Grauman's Chinese & Egyptian Theaters
For a while, Orientalist kitsch was as American as apple pie. The Orientalist mothership, of course, was Grauman's Chinese Theater, the ornate movie palace that's hosted red carpet premiered for decades. (It's now sponsored by a genuine Chinese entity, TCL Electronics). It still plays first-run movies on its best-in-class IMAX screen. Down the block, the slightly-smaller Egyptian Theater plays classic and arthouse films, if that's more your thing.
LAX mosaic & theme building
The congested nightmare at LAX is mitigated, just a little bit, by the Space Age "theme building," a soaring structure that perches between terminals like a vision out of the Jetsons. (No, it's not used for anything.) Inside the airport, a muted rainbow mosaic greets arrivals (in real life) and sets a stylish scene (in movies and TV shows). As Jackie Brown and Don Draper could tell you, it's a stunning sight coming and going.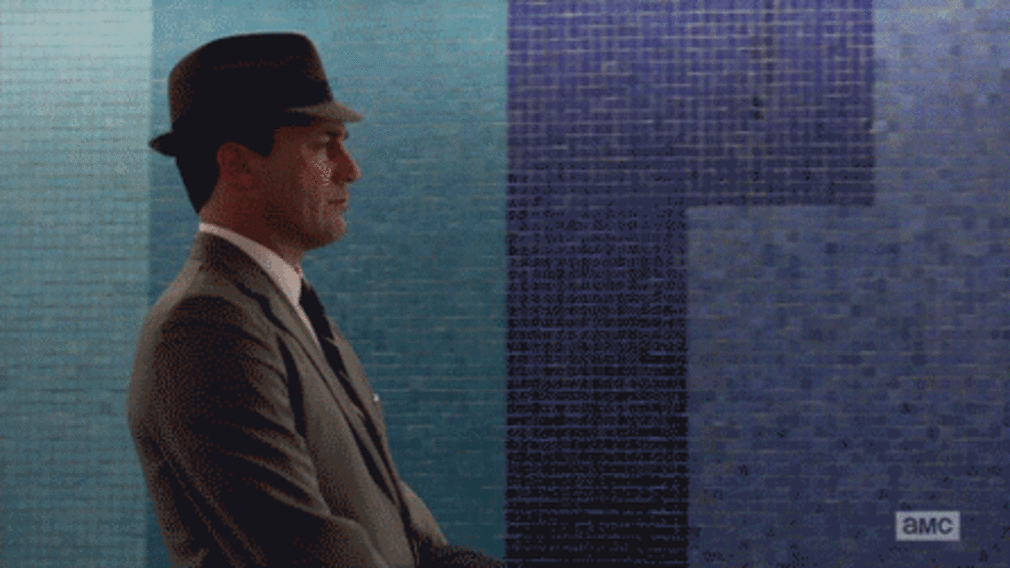 Bonus: "Have I been here before?"
Some L.A. locations are used so often, in so many different ways, that it's downright disorienting to encounter them in real life.
Vermont Canyon tunnel
These next two locations, both tunnels, have stood in for past, present, and future cities all over the world (or out of it). The arched Vermont Canyon tunnel, carved into a cliffside in Griffith Park, is the tunnel of our collective unconscious. It's elemental, a spooky portal into the unknown. It's so perfectly tunnel-like, Bugs Bunny could have painted it to trick Yosemite Sam (and, in fact, it served as the the entrance to Toontown in the semi-animated classic Who Framed Roger Rabbit).
2nd Street tunnel
The 2nd Street tunnel, which runs under Bunker Hill in Downtown L.A., is sleek and futuristic by contrast. Its lines of neon lights usher motorists into a shiny corridor that feels like hyperspace, making it the perfect setting for sci-fi classics like Blade Runner, Gattaca, The Terminator, Independence Day, and The Dark Knight Rises.
Griffith Park
Most of the planets explored by Captain Kirk in the original Star Trek looked a lot like either Vasquez Rocks or Griffith Park. Adam West's Batcave? Griffith Park. The park's shrubby hillsides and twisty trees have played "the woods" or just "outside" thousands of times, despite the fact that East Coast and Old World forests are just a bit denser. For years, Griffith topped official lists of most-used production sites in L.A., mostly owing to ongoing TV shows that feature the park as a utility player.
Angeles Crest Highway
Car commercials tend to cycle through Highway 101 along the coast, a futuristic stretch of Downtown L.A. by night, and the Mojave desert on the outskirts of town. The fourth car commercial setting is slightly harder to place: Angeles Crest highway, a stretch of mountain road near Glendale. It offers fantastic city views and just enough rugged flair to showcase a brand-new car's speed and versatility.
---
These days, big-budget productions regularly film in other states. But the City of Angels is still a supporting player, at the very least, in thousands of movies and TV shows. Catch Los Angeles in its sprawling, multifaceted, confounding glory with DIRECTV.